AN IDEAL ROUTEBURN TRACK ITINERARY
Bus transport for the Great Walks is not cheap due to the location of the track and driving distance to get there.  Consider building the Milford or Routeburn Track into your overall plans – there is so much to see and do at both ends if you have your own transport.
See our Smart Routeburn Track Itinerary below: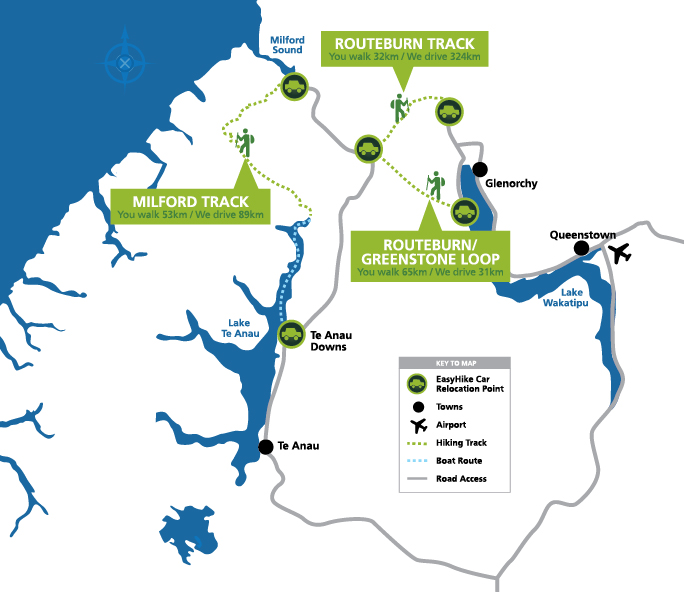 Enjoy Glenorchy/Paradise:
Visit Paradise and various movie set locations including the Hobbit and Lord of the Rings
Experience a jet boat trip on the famous Dart River, or ride a horse along the river/lake
Take a flight and skydive from 15,000 ft over the mountains you have just walked through.
There are many short walks, drives, rides in the area full of history and beautiful sights
Enjoy a well earned ice cream/coffee/cold beer/bite to eat
Stay an extra day night!  There are many accommodation options available for all budgets.
There is much to see and do, use your time to see more of the area – rather than waiting and riding the bus.
A smart Routeburn Track Itinerary- with your own car
Drive to Te Anau and explore this beautiful town with many activities.
Next morning, head to Milford Sound and perhaps take a cruise.  You will have plenty of time to stop along the beautiful Milford Highway, and see Milford Sound at your leisure before starting Routeburn Track from the Divide approx midday, walking to the MacKenzie Hut in the afternoon.
On day three walk to Routeburn Shelter when it suits you (only a few hours walking – and it's downhill too!), see your car waiting for you at the finish. You have most of the day to explore the local beauty of the Glenorchy/Paradise area – 'Head of the lake, heart of the mountains' before taking the stunning Glenorchy road to Queenstown. – Don't forget you can stop along the way at your leisure for a snap (or two) of the amazing views – even the locals can't resist from time to time!
Of course – you can do the Routeburn Track in reverse as well…  our favourite is to start at the Divide and finish at the Routeburn Shelter