What to know before hiking the Milford Track
If you've got your eye on hiking in New Zealand there's a good chance you would have heard of the Milford Track. It's New Zealand's most famous walk for a reason! Think enormous valley views, mountain peaks that scrape the sky, the tallest waterfall in New Zealand and a challenging (but worth it) mountain pass. When you're planning to embark on a multi-day hike – especially if you're not from New Zealand – planning and preparation really does go a long way. That's why we've put together this post, what to know before walking the Milford Track. It's a common question for many visitors.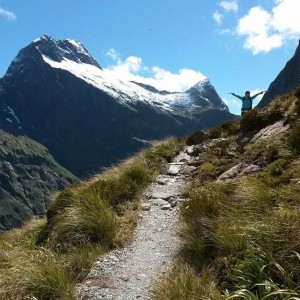 Time of year – the best time to hike the Milford Track
Most likely, you'll want to nail down the dates of your Milford Track hike before doing anything else. Remember that the Milford Track is in Fiordland, one of the wettest (and arguably, most beautiful) corners of New Zealand. But as long as you're prepared, the rain can be a wonderful thing. Some hikers say that only when it rains does the Milford Track truly come alive – water thunders down steep granite mountainsides, rainforests turn misty and Middle-earth like. This is the magic of the Milford Track.
October / November (Spring)
New Zealand's Great Walks season officially opens in October. Spring is when the waterfalls are at their most impressive, and native birds become more active. You can expect a fair bit of rain, but the track will be relatively quiet in terms of other hikers.
December / January / February (Summer)
There is more chance of encountering those 'picture postcard' days on the trail during the summer months (if you get one at the top of MacKinnon Pass, consider yourself very lucky!) Temperatures are warmer, and rainfall is slightly less during these months. This is the most popular time to walk the track, so be ready to book your walk as soon as hut bookings open to secure your ideal dates.
March / April / May (Autumn)
Some would say the best time to walk the Milford Track – temperatures are often still warm, the crowds of summer have lessened and there's not quite as much rain as Spring. Keep in mind the Great Walks season finishes in early May.
June / July / August (Winter)
Because of flooding and avalanche risks, we don't recommend hiking the Milford during winter. The Great Walks season is closed, so huts are not serviced and many bridges are removed.
Decided on the time of year you want to walk the Milford Track? Make sure you book early, as huts book out very far in advance – sometimes up to a year! Bookings for the following season generally open in early April.
Preparation and gear – What do I need to walk the Milford Track?
Fitness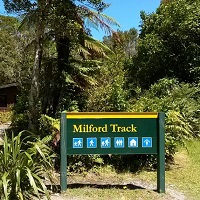 To ensure you enjoy every minute on the Milford, it's a great idea to make sure you're in relatively good shape before starting out. We're not talking about becoming an endurance athlete – the Milford is much more sedate than that; people of all abilities walk (and love!) the trail. However, if you're walking the trail independently (highly recommended), you'll need to carry a pack for 4-8 hours over 10-21km (6.2–13 miles) each day.
From two months or more out from your hike, try to stick to a daily walking regime. Gradually increase the distance each day, and some days carry a backpack and include stair or hill climbing.
What to pack to walk the Milford Track
On the Milford, there's no such thing as bad weather – just bad clothing! Because the weather can be so variable in this part of the world, we recommend a layering system to stay warm, no matter the conditions. This way, you can add or remove layers depending on what you encounter.
Consider including the following clothes and gear.
Merino wool is highly breathable and keeps you warm or cool in most temperatures. Bring thermal leggings as well as a couple of short sleeve and long sleeve tops.
Lightweight, waterproof jacket and pants
Shorts or pants that are comfortable to hike in
Comfy, lightweight clothes to change into when you reach the hut
Hiking shoes / hiking boots – make sure you've worn these in before you arrive, otherwise you might get blisters
A quality pack with a harness that has been fitted to your back (50-60L is a great size)
Pack liner to ensure everything stays dry
Warm, lightweight sleeping bag and liner
Cooking utensils
Head lamp
First Aid kit
Insect repellent and sun cream
Does the thought of lugging a pack and sleeping bag to New Zealand from your home country put you off? Keep in mind you can borrow high quality hiking gear from EasyHike as part of our Milford Track Premium or Milford Track Essentials packages – a popular option for overseas visitors.
Food
This is something you really do want to get right – you don't want too many heavy ingredients, and there's a tendency to want to go minimal, but trust us – at the end of a long day on the trail, a tasty dinner becomes a very appealing prospect!
Choose quick and easy to heat but great tasting options. Try to balance ease, nutrition, taste and weight.
We recommend:
Heat & eat dinners – spend your time relaxing at the end of the day
Freeze dried desserts and breakfasts (porridge is a great breakfast option)
Plenty of easy snacks and comfort foods – you're covering some big miles!
Remember that you must carry your waste out with you
If the thought of prepping all of your food for the Milford Track is a bit overwhelming, no stress – we've got you sorted! Our Milford Track Premium and Milford Track Essentials packages also include food. And not just any food – think locally made goodies, delicious comfort foods, and nutritious meals that will give you energy to burn. Yum!
Transport and Logistics
The Milford Track starts at Glade Wharf, at the head of Lake Te Anau, which is reached by water taxi. You'll need to organize transport from Te Anau to Te Anau Downs, or you can leave your rental car at Te Anau Downs and let Easyhike relocate it to Milford Sound for you.
The track finishes in beautiful Milford Sound itself – how's that for a sight for sore eyes (and tired bodies!) If you've organized car relocation with us, your car will be waiting for you in Milford Sound and you can continue on your way – spend a night at Milford Sound Lodge with a fresh change of clothing (highly recommended) or take your time on the Milford Road.
If you haven't organized car relocation, you'll need to catch communal coach transport back from Milford Sound to Te Anau.
How can I book the Milford Track?
Woohoo – you sound convinced! Hikers usually cover the track in 4 days / 3 nights. This ensures you don't need to rush, and you get to soak up the beauty of the trail along the way. There are 3 communal huts on the Milford Track, which must be booked well in advance through the Department of Conservation (DOC) website.
Believe us when we say you need to book early – this is one of the most popular tracks in the country. Head to the DOC Milford Track hub here to book your huts online. Bookings usually open in early April each year for the upcoming season.
If you're a bit confused, or would prefer to have somebody organize all of your hut tickets for you, check out our Milford Track Premium Pack, and let us take all of the hassle out of your Milford adventure! This is a fully supported independent hiking experience, so you still get to hike the trail independently (no big groups or waiting for people to catch up), but you get to do it without worrying about the logistics that comes with organizing it by yourself.
Our Milford Track Premium Pack includes:
Hut tickets – 3 nights / 4 days on the Milford Track
3 night food package
High quality equipment hire
Water Taxi (at the beginning and end of the track)
Car relocation
A night in a private chalet at Milford Sound Lodge, in Milford Sound itself, dinner and breakfast included
Next morning, a Milford Sound Cruise with picnic lunch
We also offer an 'Essentials' package, and car relocation service on its own – there's a supported hiking option to suit everybody.
See you out on the Milford Track!