Winter Hiking: Top 5 Dangers in Fiordland National Park
Winter hiking in the South of New Zealand is dramatic and beautiful – if you get the weather right. Short days mean crunching frosty grass in the starry morning darkness then sun soaked warmth defrosts the grass and lights the beauty of the mountains. But I'm not going to lie – the beautiful days are super chilly as they often start with a hard frost and negative temperatures.
WINTER HIKING IN FIORDLAND IS OFTEN SOMETHING SPECIAL
That is why winter hiking in Fiordland is something special and rewarding. However it is also really important to stay safe out there and there are real dangers to winter hiking that you need to know about.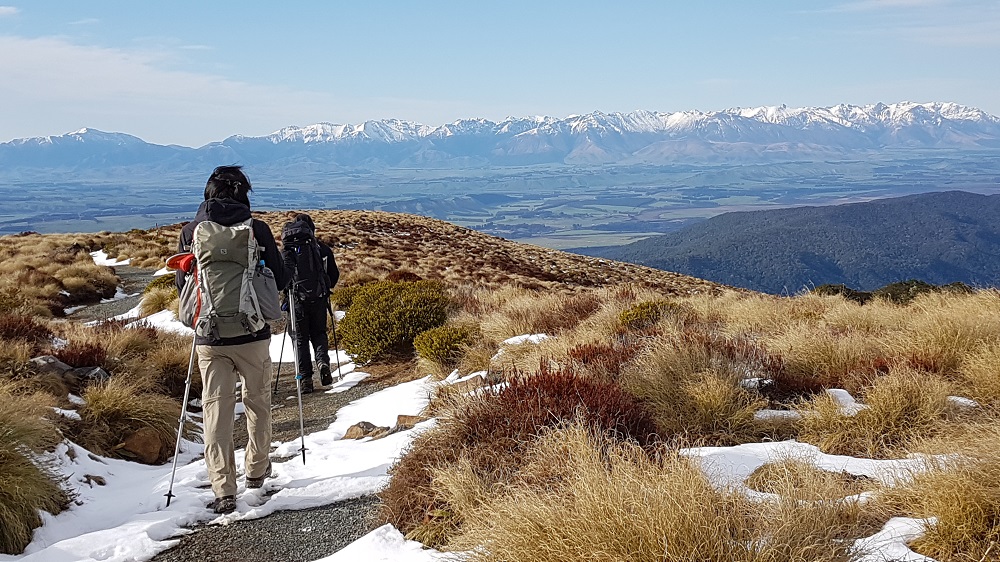 FIORDLAND GREAT WALK SEASON
The 3 Great Walks in Fiordland – Routeburn Track, Kepler Track and Milford Track all have a 'Great Walk Season' which runs from late October to early May. The tracks are still 'open' outside of this season for winter hiking, however there are less facilities in the huts and more dangers on the tracks. Milford Track water taxi's only run on demand, outside the summer season so you need to plan ahead.
Not dead set on winter hiking? Read more about the best time for hiking in NZ.
Find track specific information below from the Department of Conservation (DOC):
Winter Tramping – Routeburn Track Winter Tramping – Kepler Track Winter Tramping – Milford Track
These Great Walks in Fiordland National Park have claimed many lives – needlessly. Below we list our Top 5 Dangers of Winter hiking in Fiordland.
WARNING – We would like you to take these winter hiking dangers seriously. There are links below to New Zealand news articles where people have lost their lives on Great Walks. You may find the content disturbing.
TOP 5 DANGERS OF WINTER HIKING IN FIORDLAND
1. AVALANCHE DANGER AND NOT LISTENING TO LOCAL ADVICE
Many avalanche paths cross these three Great Walks in the alpine sections. It is often best to hike in and out the same way to avoid the snowy alpine section and avalanche danger.
WHAT TO DO:
Talk to DOC to find out more about current avalanche conditions on the track.
If people are telling you not to go – listen to what they have to say. There may be a safer hiking alternative.
Learn and use safe travel practices in avalanche territory.
Carry and know how to use your safety equipment.
Practice using your safety equipment – You and your hiking buddies are responsible for keeping yourselves and each other safe out there.
If you don't have the training, skills and gear for travelling in avalanche territory – stay away.
Find further information on avalanche safety in New Zealand in the NZ Mountain Safety Council website https://www.mountainsafety.org.nz/resources/toolbox/avalanche-safety/
It is so important to seek local safety advice, and heed warnings. In 2015 Two Canadian tourists ignored local advice and walked into avalanche terrain on the Kepler Track in adverse weather conditions. They lost their lives in an Avalanche. https://www.stuff.co.nz/southland-times/news/70551672/
2. CROSSING FLOODED AND UNBRIDGED RIVERS
In Fiordland and Mt Aspiring National Parks many bridges are removed for winter as they are at risk of being destroyed by avalanche. River crossing can be very dangerous and once again, many people have been killed in New Zealand trying to cross swollen (flooded) rivers.
WHAT TO DO:
In 2017 an Indonesian tourist was swept away by a flooded river on the Milford Track when her group was walking just after Great Walk Season and the bridges had been removed. http://www.stuff.co.nz/the-press/10184618/Stingy-tourists-walk-into-trouble
3. SLIPPERY ROCKS AND TRACKS
Remember I was talking about frosty mornings? Well cold frosty spells can last for days during winter and in shady patches (where sun doesn't reach to melt the frost) it can become really slippery under foot. Some tracks are covered in ice in these shady areas and very slippery.
In winter you often see water running along exposed rocks or sprinkling onto tracks from cuttings above. While really cool to photograph, this water freezes and is super slippery on the track. Please beware of slipping.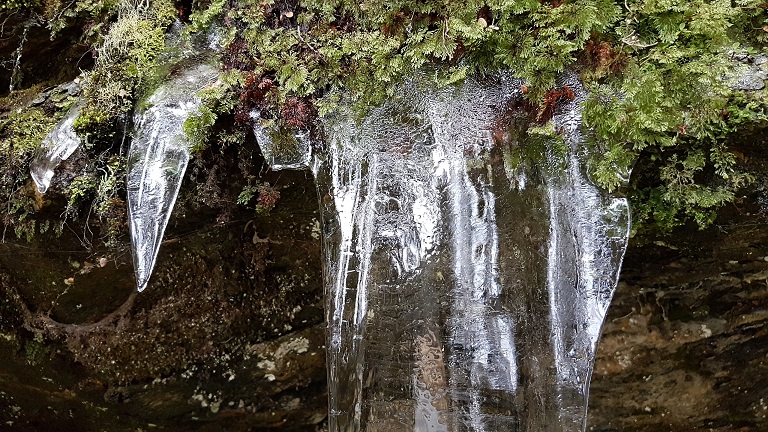 WHAT TO DO:
We aware of slippery rocks and track sections coming up
Before you cross a slippery part of a track check out the risk and where you will land if you slip off the trail. Sometimes the tracks are on the side of a hill or high above a river gorge meaning you will have a large fall.
Take a first aid kit and consider other emergency requirements before you start hiking.
Consider taking an Emergency Locator Beacon. You may not see many other people out there and need to be able to look after yourself/survive a freezing night before help arrives.
This German hiker was rescued after falling down two cliffs in Fiordland https://www.stuff.co.nz/national/75508070/National Park
4. UNDERESTIMATING THE WEATHER
In New Zealand, the weather can change quickly, and this is very dangerous if you are unprepared or become disorientated. It is easy to become lost in the mountains. High winds can easily knock you off an exposed trail, and cloud or snow (or both!) can mean you lose the trail.
WHAT TO DO:
Check the weather forecast when planning your hike https://www.metservice.com/mountain/fiordland-national-park
Take appropriate hiking clothes and equipment
Listen to DOC staff and talk to locals who know the area. Ask about alternative places to hike.
Check the weather forecast again before you start – the weather can change quickly.
If you are unprepared or don't have the correct safety equipment, food and winter hiking gear, you may remain exposed for a long time like the Czech couple who became lost on the Routeburn Track in 2016 https://www.stuff.co.nz/national/83536051/tramper-missing-presumed-dead-on-routeburn-track
5. IT GETS COLD…FAST!
Winter days can be stunning in the sunshine. It is easy to get caught up in the beauty of the day/mountains and walk a bit too far – meaning you aren't prepared for the cold/darkness that will be upon you sooner than you think. As soon as the sun goes behind the mountain (which is often mid afternoon due to the steep river valleys and high mountain peaks) you will be left in a cold wintery afternoon, the temperature will plummet quickly, and things will start to freeze again. It gets cold.
WHAT TO DO:
Have a plan – know how long you are intending to hike and when to turn back. Even if you set a turn around time to ensure you have plenty of time to walk back again.
Be prepared for the cooler temperatures with woollen hats and gloves, down jackets and outer layers. Even on day walks!
Take more food than you think you will need to provide extra energy if required.
Think about taking a head torch (or other light source) just in case.
Do not rely on your mobile phone as a torch as the phone batteries lose charge quickly when it is cold, and also – you may have used most of the battery taking photos anyway!
That leads me to one more little gem – it is unlikely you will mobile coverage on many trails in our area, so consider putting your phone on 'Flight Mode' to save some battery. You never know when you might need it. In the article below an elderly hiker gets lost and braves a cold night near the Milford Track – and that was in March – which is during Great Walk season and not even during winter when it really gets cold! https://www.rnz.co.nz/news/national/385410/elderly-woman-rescued-from-near-milford-track-safe-and-well
WINTER HIKING IS ACTUALLY REALLY REWARDING
So, after all that doom and gloom – I just want to reiterate that hiking In winter is actually fantastic and really rewarding. I'm not saying don't do it – I just want you to understand that there are very real dangers out there that must not be underestimated.
WHAT TO DO:
Please be prepared – take the right gear, plus find out about the track and weather conditions.
Reach out to DOC staff, locals who know the trails you are interested in walking, and also research online resources.
Tell people your plans. Create intentions so people know where to start looking, if you don't return on time. Here is a handy tool to use: https://www.mountainsafety.org.nz/plan-my-trip/#/
Mountain Safety Council have a lot of fantastic information on their website and share a lot of great tips, images and stories on social media – look them up! https://www.mountainsafety.org.nz/
Easyhike can also help with information, plus food and equipment if you want to brave a winters night in a DOC hut – we know the best places to enjoy those stunning winter days, while staying clear of avalanche danger and river crossings!
Stay safe out there!