MILFORD TRACK – YOUR BOOKING GUIDE
Nestled in Fiordland National Park, the Milford Track is described as the 'finest walk in the world'. For kiwis, tramping the Milford Track will be on the bucket list (and might have been for some time!) and experiencing it independently is a fun and popular option. With the freedom to walk on your schedule and at your own pace, it's a quintessential kiwi choice and there's never been a better time to get out there and experience it.
BOOKING YOUR SPACE
Securing your space on the Milford Track can be a wee bit of a challenge – if you don't know where to start. But that's where we come in! We've put together an easy, step-by-step guide on how to book your Milford Track summer experience, so you know what to expect.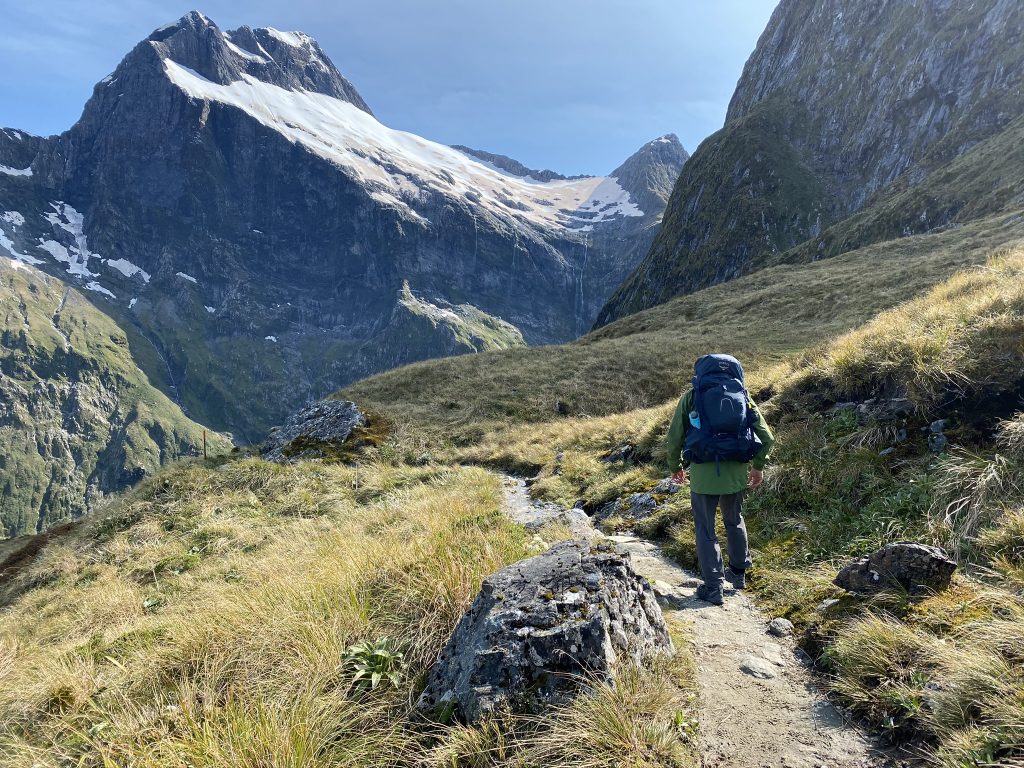 WHAT YOU NEED TO BOOK FOR THE MILFORD TRACK
HUTS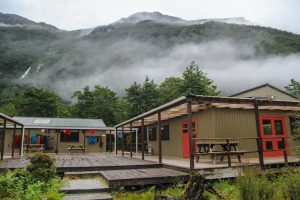 The first and most important step in planning your Milford Track experience is to secure your hut reservations. The Department of Conservation (DOC) has three huts along the Milford Track and all three need to be booked together. Traditionally, the DOC booking system opens every year in June/July for the following Great Walks Season (end October – end April). Due to the popularity of the Great Walks, spaces usually sell out very quickly (within minutes of bookings opening!).
If you've never experienced staying in a DOC hut before, check out our Routeburn Track DOC Huts blog for an idea of what to expect.
TRANSPORT
To start and finish the Milford Track requires water taxi services. You will also need to plan transport between the water taxi access points at Te Anau Downs (start) and Milford Sound (finish). There are loads of options and Easyhike specialises in track transport. Read all about the options in our Milford Track Transport blog.
HOW DO I BOOK MY HUTS ON THE MILFORD TRACK?
Being organised is the key to securing your space on the Milford Track! There are a few small tasks you can do before the bookings open, which will save you a lot of time and stress on booking day.
DOC has an online booking system and for the 2021/2022 season, Milford Track bookings open at 9.30 am on Tuesday 15 June 2020.
STEPS TO TAKE BEFORE BOOKING DAY
Create your account
Create a new account with DOC here. You'll need your name and address details. Setting this up beforehand will save you precious time on booking day!

Confirm your hiking buddies details
Collect the full names, ages and nationalities of everyone travelling, as you will need this when it comes to making your booking.

Consider a range of dates
Discuss with your travel buddies a few different date options, just in case your first choice isn't available. This will allow you to spring into 'Plan B' if needed.
BOOKING DAY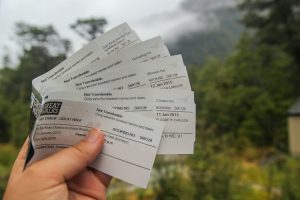 Be prepared, it will be busy! Think purchasing sought after concert tickets – it is almost the same.
Set your alarm and be at your computer at least a few minutes before bookings open (9.25 am for 9.30 am opening).
STEP 1: Log in
First, log into your newly created Department of Conservation account.
STEP 2: Set up your booking
Key in the details of what you would like to book.
Select Milford Track from the drop-down menu.
Select your start date, the number of nights (3), the number of people, then hit SEARCH.
Your screen will then show your dates and availability.
IMPORTANT TIP: If you are logging in before the system is open (which we advise!), all space will appear to be blocked out (red buttons). If this happens, wait patiently until the clock ticks over to that magical time. Then, refresh your browser screen until it shows available space (green buttons).
STEP 3: Book your space
Once your screen shows green boxes, click on the date you would like to start and all three huts will automatically be selected for you. Then click RESERVE.
STEP 4: Enter your details
Follow the form instructions and enter the details for all travellers in the fields. NOTE: All fields need to be completed. You won't be able to progress your booking if there are gaps.
STEP 5: Check your details
Check your booking details are correct, then select BOOK GREAT WALK.
NOTE: If any details are incorrect:
If it relates to the information about your travellers, we recommend completing the booking process, then go back and fix after.
If it relates to the dates you have selected, you will need to go back and start from scratch.
STEP 6: Final Check
Your final booking summary will now appear along with costs. Tick that you agree to the Terms and Conditions, then GO TO CHECKOUT.
STEP 7: Pay
This is where you complete your payment details.
WELL DONE – YOU CAN NOW RELAX!

HOW TO BOOK YOUR MILFORD TRACK TRANSPORT
With a big sigh of relief and your space on the Milford Track secured, you now you need to talk to us about booking your transport.
Track transport is our specialty, we know all the options and can work with you to plan and book the best option to suit your travel style and itinerary. Learn more about our transport options.
COMMONLY ASKED QUESTIONS ABOUT THE MILFORD TRACK
Do we have to stay in the huts? Can we camp?
Unfortunately, it isn't possible to camp on the Milford Track. Learn more about this from DOC.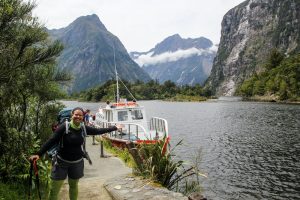 Can we skip huts and only stay 2 nights on the track?
No, the Department of Conservation manages people on the track very carefully and all hikers must book and stay in all three huts.
What is the busiest time of the year on the Milford Track?
Often the two weeks on either side of the Great Walks Season (end October – end April) are the busiest time, along with the months of December and January. With our New Zealand border restrictions, many kiwis will be taking the opportunity to experience the Great Walks, so the 2021 – 2022 season may not fall into a traditional pattern. Spaces in December, January, public holiday weekends and school holidays typically sell out the fastest.
Can I walk the Milford Track without carrying a pack?
There is currently no pack delivery service available on the Milford Track. We can provide lightweight hiking gear and packing tips to help you reduce the amount you need to carry. The closest you can get to carrying nothing is booking a fully guided experience with Ultimate Hikes. They have private lodges on the track, provide all meals and transport your gear.
---
HOW CAN WE HELP?
Hopefully, we have covered everything to set you up for success to secure your spot on the Milford Track! If you'd rather skip the hassle of booking, we can take care of your hut bookings as part of our inclusive Premium Package.
Get in touch if you have any questions or need an extra hand with your itinerary planning. We can get you to the track and back, and help you see more of Fiordland!
Call – 0800 327944 or +64 021 445341 Email – info@easyhike.co.nz or Book online